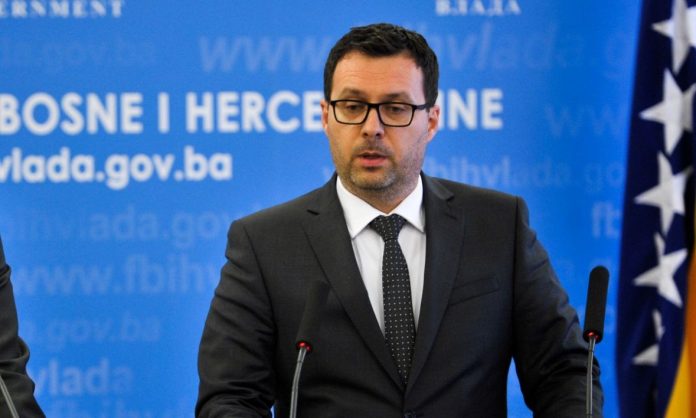 Na današnjoj sjednici Vlade FBiH usvojena su dva velika kreditna programa za privrednike u BiH, a njihova ukupna vrijednost je oko 200 miliona KM.
Federalni ministar energije, rudarstva i industrije Nermin Džindić ovom prilikom kazao je da se radi o nastavku pomoći Vlade FBiH i resornog ministarstva privrednim društvima koja su pogođena pandemijom koronavirusa.
"Mi smo još prošle godine 100 miliona KM proslijedili u pet različitih sektora, a putem Federalnog ministarstva energije, rudarstva i industrije išlo je 30 miliona KM za izvozno orijentirane kompanije",  pojasnio je Džindić.
Dodao je da se efekti ulaganja Vlade FBiH mogu vidjeti i mjeriti.
"Danas smo donijeli tri nova programa, prvi je za izvoznike i velike preduzeća, to je iznos od 100 miliona KM. Radi se o sredstvima koja su dostupna putem Razvojne banke FBiH. Vrlo su jasna pravila ko ih može dobiti, uslove je također pokretanje novih poslovnih aktivnosti, povećanje konkurentnosti, te povećanje borja zaposlenih. Sve su to uvjeti koji se moraju ispuniti. Rok otplate je 120 mjeseci, uključujući grace period od 24 mjeseca", pojasnio je Džindić.
Prema njegovim riječima, ukupan iznos garancija je 100 miliona KM.
"Završavamo aktivnosti u vezi 100 miliona KM koje smo prošle godine lansirali putem istog programa. Novina za 2021. godinu da smo putem resornog ministarstva usvojili i program utroška subvencija privatnim preduzećima za regresiranje kamata. Za to smo izdvojili 6 miliona KM a kako bi pomogli privrednim društvima koja koriste neke od naših programa. Osnovni cilj je da omogućimo korisnicima koji su zaduženi da mogu koristiti grant sredstva za subvencioniranje dio kamata. Subvencionirat će se kamate na tromjesečnom nivou do 2,5 posto", istakao je Džindić.
Dodao je da Federalno ministarstvo energije, rudarstva i industrije kontinuirano radi kako bi pomoglo bh. privrednicima.
"A sve kako bi lakše prebrodili poteškoće vezane za koronavirus. Nadam se da će svi biti zadovoljni, a radimo i na novim mjerama do kraja ove godine", zaključio je Džindić.